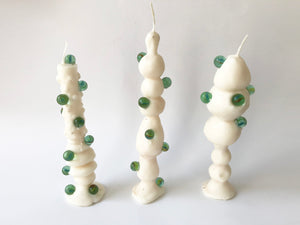 Sweet Release Candles
Sweet Release by Calendar Goods
Designed with holes in mind. And filling them. And releasing from them.
The Sweet Release candles should hold as a gentle reminder that you need some attention. Hand poured, mold made, and only meant for burning.
Each table top candle is adorned with pee wee size marbles. Like the toll of your libidinous clock the marbles drip drop and indicate that it might just be time for some sweet release.
Dimensions: 4" x 12"

Materials: Soy wax, cotton wick, glass marbles