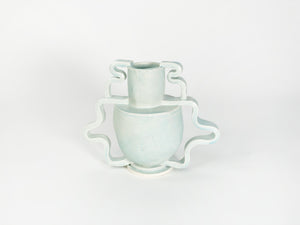 Double Stretch Vase
by Morgan Peck
Morgan Peck is a ceramicist living in Los Angeles. Every piece is made individually by hand without the use of molds in her backyard studio. Peck's work continues in the footsteps of the studio potters that preceded her and she takes note of numerous styles, hinting at the Memphis Group, the Bauhaus, and Art Deco. Sometimes reproducing the forms of Venetian glass and the splotchy surfaces of 19th century spongeware, she moves through these references with a modest, considered, and decidedly modern touch.
Materials: Mid range clay
Dimensions: 9" x 4.5" x 8.5"