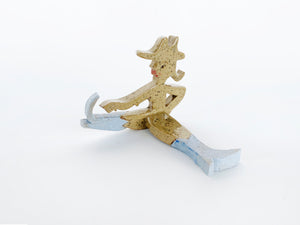 Turq Boots From the Nice Ladies in the Desert Town
A fetish for home or office. A garden, a bath, a laugh.
These fetishes are tender talismans created from processes of improvisation: performance movement, ceramic sculpture, and comedy. No two figures are alike, and every form arrives as a surprise. Imbued with inside jokes, character, and energetic weight, these sculptures are meant to help you to be in your body. Place one on your desk to remind you that your mind is connected to your athletic power. Install one near your bed to inspire erotic shamelessness. Put one somewhere shocking to get yourself laughing from the inside out. Where is your body? How have you never moved? What liquids will pour out of you today? How do you taste? What gesture do you do the most? Do it inside out. Has your tongue ever licked your elbow?
Materials: ceramic