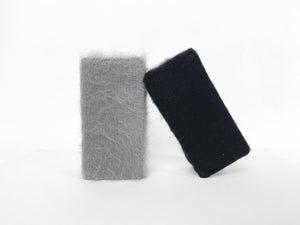 Angora Bricks
Angora Bricks by Various Projects
On a crisp fall day, back in 2008 (think: Single Ladies, the dawn of a recession, would Obama win?) - I wandered around Manhattan's Chinatown, 22 years old and eyes open wide.  To be specific - Dime's square, pre-Dimes (pardon the NYC specificity, all my non-local loves).  I was lost in a city I grew up in. Just down the block there was a bright, shining light - a silver and white shard shaped shop.  Inside there was an abundance of avant garde clothing (not my love language) and stunning objét (absolutely my love language) and I spent a few blissed out moments taking it all in.  And then I saw it - an object that will change my life forever - an enigma, inside a mystery, wrapped in angora.  -Gabriel
That store was of course the iconic Project No. 8, and that object is the angora wrapped brick we are thrilled to present to you today.  Proj. No 8 was an important guiding light for us in the early days of F&M, in that it seamlessly blended design, art, and commerce.  It championed a specific kind of design practice: emotional heft, material choices, and smiling innuendo braided together - creating a context from which F&M was dreamt into the world.  They were the second store we ever hoped would show our work (at the time we were peddling pins made out of molted parrot feathers). While we never heard back from them about those pins, look how the tables have turned! 
We opened our own storefront in the Spring of 2018 hoping to show work in community with artists we know and admired from afar.  I don't think we realized at the time just how important a project we were beginning - but it took off regardless.  The storefront is a physical, virtual and emotional parade - a roving celebration of work that prompts wide eyes, inexplicable delight, and full body chills. Even as we closed our first physical space last month - the project rages on.  It is an honor and a privilege to do this work with Project No 8, and all the artists we work with - arm in arm and brick in hand. 
Materials: clay, angora
Dimensions: Approximately 8" x 2.5" x 3.75"