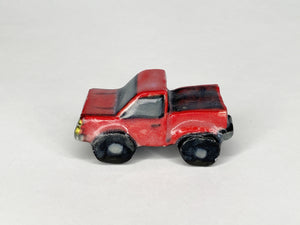 1996 Red Chevy C/K1500
Giovi Signorile is many things - artist, surfer, lover, entrepreneur, driver, curator, friend, soccer star, visionary, and half of Fredericks & Mae (among other things).  While we all exist with diverse and shifting roles - Gio's vastness is on particular display here, as F&M presents, with immense pleasure, a collection of work from their art practice: tiny totemic trucks.  The work functions as both a meditation on craft and a craigslist obsession, but ultimately reaches that oh so rare peak of devotional object - that category of things that are carried by the faithful, and who see them as imbued with spiritual values and use them for votive offering.
Dimensions: approx. 2" x 1" x 1"
Materials: ceramic