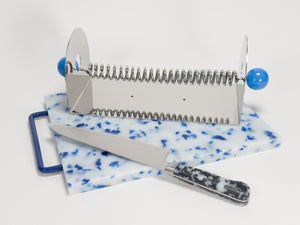 Cool Blue Kitchen Bundle
Upgrade your kitchen with this set to make a mess and then clean it up!  Our signature cutting board and knife set comes with a just released paper towel holder - an instant kitchen upgrade.  This bundle combines style and functionality - a real form + function 1, 2 punch to the face.  Cook a meal, make a mess, and then tidy up - a cycle of damily life!

Bundle Includes:
1 x Black/White Chef's Knife
1 x Blue/White Cutting Board
1 x Blue Paper Towel Holder

Bundled together at 25% off!