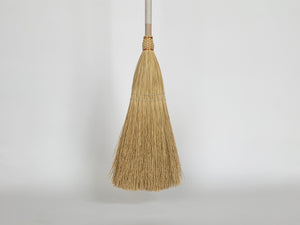 Modern Broom
Modern Broom by Custodian Studios
A Shaker-style flat broom, approximately 56 inches tall. Handmade on an 1890s broom machine.
Maple or ebonized Oak wood handles are finished with a bit of natural soap for a low-sheen, buttery finish. Linen cord waxed with fragrant yellow beeswax for the stitching. Fabric handle sheath
Black bristles are hand dyed with Logwood and Iron.
Materials: broom corn, maple, wire
Dimensions: approximately 56" tall