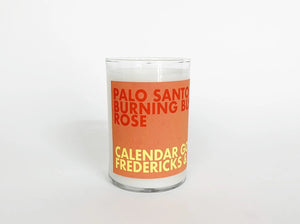 Scented Candle: Palo Santo, Burning Bush, Rose
These candles are made in collaboration with olfactory oracle Calendar Goods. They are obsessively made by hand - from the candle itself to the silkscreened label, they are labors of love.  Smells like a desert bloom, hot sun on skin.
Dimensions: 3.25" x 3.25" x 4.75"
Materials: soy wax, cotton wick, glass, ink, paper